Home
Event Details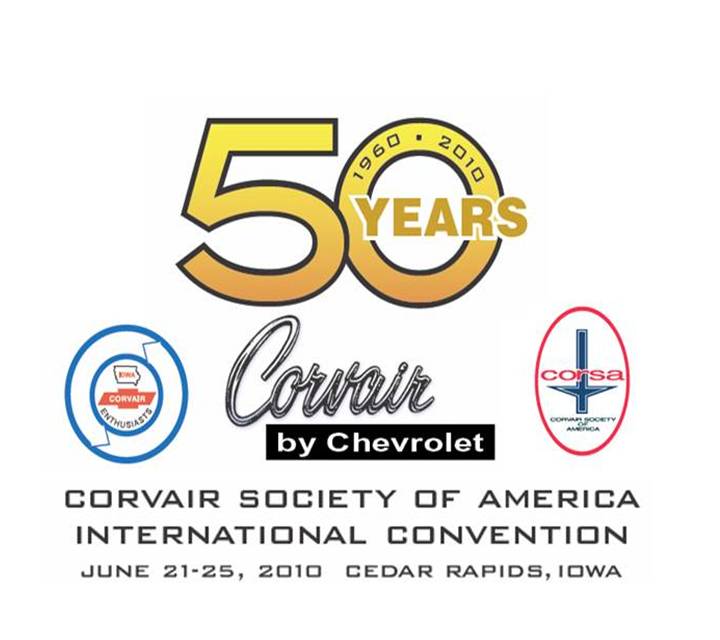 Registration
Welcome Party
The Welcome Party is planned for Monday evening at the motel and will feature Pizza so that you can walk around, mingle, and socialize with your old friends and make new ones, too.
Concours
Car Display
This Event will be much more than just the traditional Car Display. The Car Display will be held at Noelridge Park and will be for all Car Display cars and Concours cars, however the Concours cars will not be eligible for awards in this event. Car Display awards will be awarded on site at the end of the event. What else is being planned for this fun, family oriented event...catered picnic, games, tech session on '60 Corvairs by Pete Koehler, music by the musical group 'Greenbriar', guided tours of the gardens and more. Come bring this convention to a closing with laid back food, fellowship and fun!
Econo Run
Autocross - Hawkeye Downs Speedway
Rally
The road rally is a competitive event that tests each participating team's ability to follow specific directions while driving on public roads. The object is to stay on the course without getting lost and to follow the specified rally instructions as closely as possible. The 2010 road rally will be of the Photo Rally type (note: this is different than what was printed in the May 2010 CORSA Communique). Each team will be given a packet of photographs, all taken from the front seat of a Corvair, to identify and locate along the rally route. Scoring will be simple: penalty points will be imposed for the error in locating the mileage at which each photo is identified along the route. The lowest score wins.

The rally will start with a 10-mile odometer calibration leg, a portion of which will be in a transit zone. Participants will soon find themselves driving through the verdant Iowa countryside, passing through several small towns, and will encounter terrain many outside of the state may not expect. The active route will be at least sixty miles in length. We intend the course to be sufficiently challenging for experienced rallyists but straightforward enough for novices to finish, have fun, and enjoy the scenery. A transit zone will bring the drivers back to the convention hotel
Vendors
Clark's Corvair Parts will be vending inside Monday through Thursday Noon.

Would you like to be an inside or outside vendor at the Convention? Chuck Johnson of Corvair Minnesota is the vendor chair. If you have questions, Chuck can be contacted at cljohnson99@gmail.com
Valve Cover Races
Our valve cover track is like none that you've seen before (unless you attended our regional in 2005). It's a high tech race track and it has a realistic drag strip style Christmas tree where you control the release of your own 'car'. Can you release too quickly and red light...you bet. Better start practicing your reaction time now!
Banquet
Tech & Information Sessions
Corvair Clocks & Radios by Fred Bybee

Unique Features of the 1960 Corvair by 'Caveman' Pete Koehler

History of Chevrolet in Australia by Carl Kelsen

3.1L Engine Build & Modern Fuels by Fran Schmidt
Special Events of Interest for Women, Children & others
Monday, 21 June

1:30-3:00pm, cost is $9. Kolach Baking Demonstration: Cooking up friendships is a fun way to socialize! Get ready to See, Smell and Taste your way through a fabulous cooking demonstration! Veteran kolach bakers, Joyce Netolicky and Zelda De Hoedt, will share their famed recipe and baking tips for the Czech favorite 'Kolaches'. come ready to create culinary buddies while kneading, rolling and filling Kolach. It's hands -on, with samples and fun. All food fees are included in the cost and will include you taking some back to the room for later. Limit 30

Tuesday, 22 June

9:00am-10:30, Free. "Transitions: In Quilts of Life". Lecture/demo with Bertha Tribuno. Attendees may bring a quilt they would like to share that has been instrumental in their transitions in quilt making or life. Limit 30.

1:00-3:00pm, cost is $15. Salsa Delicious! w/ Christy Frese. Learn how to make your own fresh and tasty salsas! In the first half of the class you will be divided into groups for a hands-on salsa and guacamole-making session. You will make at laeast three varieties of salsa as well as a fresh guacamole. Salsa is not just for tortilla chips! In the second half of the class, you get to relax while Christy demonstrates all kinds of ways to serve up your new favorite salsas! You get to taste all the results. Come join the fun! Limit 18

Canceled due to lack of registrations 3:00-5:00pm, cost is $16, supplies included. Teens mirror & metal frame using alcohol inks. Teens come make a cool mirror frame to take home and show your friends. You will be making it with alcohol ink so bring an old shirt or apron. Be prepared to have some fun and meet new friends! Limit 10.

8:00-10:00pm, Pampering pajama party
Women-Only Event (anyone under 18 must be accompanied by a parent/guardian)
Come in your pj's for a night of manicures, pedicures, facials, and fun! Please bring your own polish if you have it. Prizes will be awarded for best pajamas and refreshments will be served. The event is free, but please sign up so we have an accurate count for supplies.


Wednesday, 23 June

9:00-10:30am, cost is $6, supplies included. Trellis Necklace. Come learn how to make this wonderful necklace that you will be so proud to wear. You don't even have to know how to crochet, we will teach you! Limit 10.

Canceled due to lack of registrations 1:00-2:30pm, cost is $10. Kids' Cooking: It's a Fiesta w/ Christy Frese (for ages 5+). Calling all kids! Let's get cooking! We will make Great Grilled Quesadillias, Fresh Fruit Salsa and Guacamole! This is a hands-on class where kids can learn a few cooking skills. Once our creations are complete, we will sit down adn enjoy our feast together! Come join the fun! Children must be accompanied by an adult. Limit 16.

Canceled due to lack of registrations 2:00-3:30pm, cost is $14, supplies included. Making all Occasion Cards. In this great class you will make 6 all occasion cards and make the coordinating bag to hold them., would make a great gift for someone or keep them for yourself. Limit 10.
Thursday, 24 June

Canceled due to lack of registrations 9:30-11:30am, cost is $16, supplies included. Brayer Background Cards. Come learn how to make a brayer background using distress inks, this is a totally different wheel! you will make 4 beautiful cards using the brayer and distress inks. Come have fun with this wheel! Limit 10.

Example of Brayer Background Cards

Canceled 12:30-2:30pm, Chipboard Book. You will not want to miss this class. Make a chipboard book to hold some of your photos you took during the week. Limit 10.

1-3pm, Banquet makeover
Women-Only Event (anyone under 18 must be accompanied by a parent/guardian)
A Mary Kay Beauty Consultant will personalize a glamorous look just for you for the evening's awards banquet. No pressure to buy, just come have fun trying new colors and new looks! The event is free, but please sign up so we have an accurate count for supplies.